The Best Accessories for Nintendo Switch
In this post, I will show you where you can find the best accessories for Nintendo Switch, and how they can take your game to the next level.
You have a few options when it comes to getting accessories for your Switch. Much like the Wii that came before it, there is a huge market of gaming accessories that were made. With so many out there, it can be tough to decide on what to buy. Some accessories are purely cosmetic, while others can actually make it easier to play in comfort. And so, I will be covering the best accessories for Nintendo Switch, where to find them, and how they can help take your game to the next level.
This post is essentially a buying guide, to help you get some information on nearly every kind of accessory made for the Switch, what they do, their pros and cons, and whether or not they might be worth their price.
---
The Best Accessories at a Glance
Below are what I feel are some of the best Nintendo Switch Accessories out there, as of writing. I've selected these based on their usefulness, as well as their overall contribution to your gaming endeavors. These are grouped into categories, so if you'd like more details on each, feel free to keep reading below.
---
Accessory Bundles
If you are on the fence on what kind of accessories to get, you can always get the whole kitchen sink! Accessory bundles are an all-in-one solution, providing you with everything from protective travel cases, controller grips, screen protectors, and the like.
There are quite a number out there, ranging from small bundles to larger ones. As with most bundles, you pay more for larger bundles, but you typically save a bit more buying in bulk. If you are looking for specific accessories, you may want to compare the cost of the various bundles with individual desired accessories, because you may find a good deal.
Orzly Ultimate Geek Pack for Nintendo Switch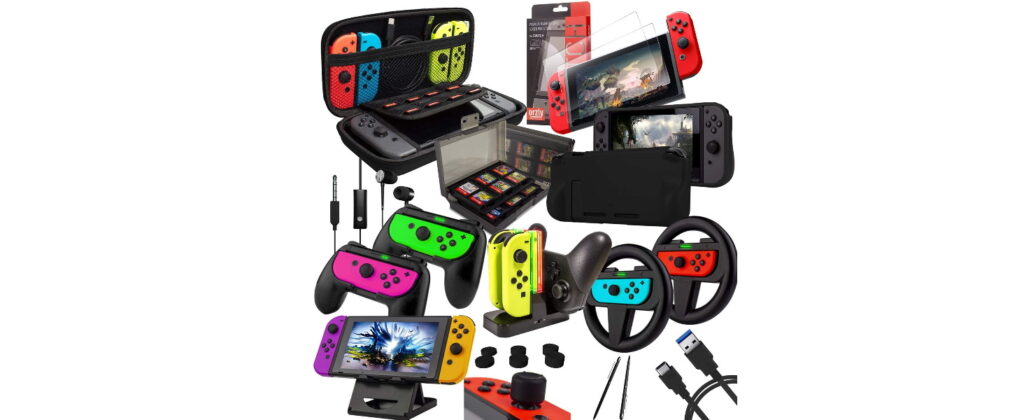 Brand: Orzly
Review Price: $54.99
Average Customer Rating: 4.7 stars, out of 14700+ ratings
This pack comes with pretty much everything you need to get started with enjoying your Switch, and makes for a great gift idea for new Switch owners. The only real downside to this pack is that it was not designed for the Switch OLED model.
Read More: The Best Nintendo Switch Accessory Bundles
---
Screen Protectors
The Switch is portable, just like our phones. And just like our trusty phones, they too are at risk of scratches and cracked screens if you are not careful. Screen Protectors are, in my opinion, an absolute essential to have for your Switch. As powerful as these consoles are, the screen is just as fragile as that of a smartphone screen, and so they must be protected all the same.
Tempered Glass Screen Protector
Brand: amFilm
Review Price: $7.99
Average Customer Rating: 4.8 stars, out of 96000+ ratings
This is an absolute must have, due to the portable nature of the console. I've used this screen protector without any issues, and it doesn't bubble. It will also protect your screen from the Switch's TV docking station, which has plastic edges that can scratch the display screen.
Read More: The Best Nintendo Switch Screen Protectors
---
Controllers
The Joy-Cons are a pair of controllers that come packaged with every Switch console. Each Joy-Con has a full set of buttons and can act as a standalone controller, and each includes an accelerometer and gyro-sensor, making independent left and right motion control possible. Basically, this controller is the evolved form of the Wii Remote, except much smaller and far more portable.
There are many different kinds of colors that you can get, so they can really make your Switch stand out amongst others. More importantly, multiple controllers allow for multiplayer!
Nintendo Switch Pro Controller
Brand: Nintendo
Review Price: $69.75
Average Customer Rating: 4.9 stars, out of 56000+ ratings
As much as I enjoy the concept of the Joy-Con controllers, I feel that they just don't cut it for gaming sessions on the TV. Even with the "comfort grip", prolonged play with the Switch's default controllers can leave adult-sized hands feeling cramped. This is why I highly suggest the Pro Controller. It has larger face buttons, a better D-Pad, 40 hour battery life, and is much comfier to hold.
Read More: The Best Nintendo Switch Controllers
---
Travel Cases
The Nintendo Switch was made to be played not only at home, but also on the go. Perhaps one of the best investments for your Switch is going to be a travel case. After all, the Switch is a portable console, so it makes sense to have a safe way of taking it with you.
Most cases come in two flavors: a small "soft-shell" kind, and a larger "hard-shell" case. There are also travel bags you can use, that provide more storage space. Always remember to check if the case you are looking for properly fits your Switch model, because some cases were only designed to fit one size.
Orzly Carry Case
Brand: Orzly
Review Price: $19.91
Average Customer Rating: 4.8 stars, out of 45000+ ratings
I recommend this particular case not only because it supports both the OLED and standard Switch models, but also because of its durability. Packing a water resistant, heavy duty EVA shell, it has a soft inner lining that protects your Switch from scratches. The main compartment fits the Switch nicely, and even has an inner pocket that accommodates things like cables, straps, and extra Joy-Cons. It comes in numerous colors to suit your fancy.
Read More: The Best Nintendo Switch Travel Cases
---
Portable Batteries
The Nintendo Switch may have an integrated battery, but that hasn't stopped manufacturers from making backup battery packs that can be used on the Switch. If you travel often, and play outside of the home, you may want to consider making sure you have a means to keep your Switch running. Very much like the battery backups made for smartphones, the Switch can be hooked up to get more power when needed.
Anker PowerCore 13400 Nintendo Switch Edition
Brand: Anker
Review Price: $59.95
Average Customer Rating: 4.8 stars, out of 532 ratings
Officially licensed by Nintendo, this portable battery packs a whopping amount of power, enough to keep your Switch running for a long time. The Switch itself has a battery capacity of 4310mAh, which goes to show you how handy it is to have Anker's battery backup on hand.
Read More: The Best Nintendo Switch Portable Battery
---
Chargers
Fitted with a USB-C port, the Switch is able to hook up to nearly any modern phone charger out there; if you already have a cell phone, you probably might not need to buy a charger. Unlike mobile phones, the Switch has a massive battery, meaning that in order to get a proper charge, it will need to either be docked, or hooked up to a charger that can supply more current through the power outlet.
Nintendo Switch AC Adaptor
Brand: Nintendo
Review Price: $39.99
Average Customer Rating: 4.8 stars, out of 1417 ratings
Surprised to see this make the list? Probably not. Officially licensed products are always an excellent choice; they are made by Nintendo themselves, and that Seal of Quality isn't just there for looks. While it may be a little more expensive as a result, you aren't likely going to have any problems down the road.
Another great thing is that it is not hardwired into a docking station; you can directly connect it to your Switch, a Pro Controller, or anything else that has a USB-C port. I should add that the cord is on the shorter side; at only 5 ft long, there's only so far you can run the cord to place your docking station.
Read More: The Best Nintendo Switch Charger
---
Docking Stations
If you bought your Switch, it already came with a docking station that allows you to connect your console to a TV. On the other hand, if you got a Switch secondhand, you may not havbe gotten a dock along side it. The Seith Dock allows you to turn your hybrid console into a fully fledged TV console. There are some third party options out there that can do the job just as well. As much as I like the official dock, alternate docks can have extra features.
Foscomax Switch Dock
Brand: Foscomax
Review Price: $41.99
Average Customer Rating: 4.4 stars, out of 180 ratings
I found this docking station to be my top pick not just because of the fitting color scheme that matches the Switch's Joy-Cons, but also because of its form factor. A smaller alternate to the original docking station, this one hooks up to your TV and to a power source, and you mount your Switch on top to easily change between TV mode and handheld mode. This small docking station frees up space all around your console, so that heat can more efficiently disperse.
Read More: The Best Nintendo Switch Docking Station
---
SD Cards
As you continue to buy more games or take lots of screenshots, there will come a time when you will need more storage space to accommodate. Getting an SD Card (technically a microSD card) is probably the easiest solution to your storage space. By plugging that card into your console, you will immediately expand your Switch's storage beyond what it can hold, making room for more games and content.
SanDisk 128GB microSD Card
Brand: SanDisk
Review Price: $34.99
Average Customer Rating: 4.9 stars, out of 163K ratings
I've always had a good experience using the SanDisk brand name, which is why it is my top pick for SD cards. The card above can be purchased at various levels of storage capacity, going all the way up to 512GB. You can also choose from a number of visual card styles, from Mario to Zelda.
Read More: The Best Nintendo Switch SD Cards
---
Cables and Adapters
Out of the box, the Switch already comes with everything you need to hook up to a TV. Using HDMI is a lot less tedious than the old RCA cables that were used by old consoles back in the day.
These days, everyone's gaming setup can be different, however. Some people may stream their games to a PC, while others may have their system set up through a projector. If you want your consoles and electronics set up a certain way, there are various kinds of cables, adapters, and other things that can make it easier to get connected.
USB-C to HDMI Adapter
Brand: AXD
Review Price: $37.99
Average Customer Rating: 4.2 stars, out of 79 ratings
This little device is more than a simple adaptor; it replaces your Switch dock. If you are looking to downsize your gaming setup, remove some cables, and make your TV stand look a little less cluttered, then this adaptor shows promis. As long as it is connected to power, you can hook one end into your Switch, and the other into any HDMI port, letting you hook it into pretty much any TV, PC monitor, or capture card.
Read More: The Best Nintendo Switch Cables and Adapters
---
Protectors
Personally, I like to use my Switch in TV mode, so I don't often take it off the dock to play on the go. But using a Switch without any kind of protection is just like having a smartphone without a phone case. There is the risk of drops, especially if little kids are involved, and the last thing you need is a drop to cause irreversible damage to your Switch.
A protector (also referred to as a grip case) is your first line of defense for keeping your Switch safe in case of an accidental drop. These wrap around your Switch, securing them much like a phone case, giving you a little extra protection against drops and damage.
HEYSTOP Switch Case
Brand: HEYSTOP
Review Price: $13.99
Average Customer Rating: 4.4 stars, out of 9400+ ratings
This clear case works just like a phone case. Designed to fit all around your console, it leaves holes and slots open for button and port access. It even allows your Switch to be docked without having to be removed, which is a plus.
Read More: The Best Nintendo Switch Case Protector
---
Faceplates and Skins
Much like smartphones and handheld consoles, the Switch is a very personal thing, so there are some people out there who like to give their consoles a little character. Skins and faceplates allow you to do just that. Some are easy to use, such as silicone cases that fit right over your Switch, whereas there are some kits that require you to take apart and replace the outer covers and plates on your system, so make sure you understand what you are getting into.
Remember that taking apart your Switch will void any kind of warranty in case something goes bad. Keep in mind that some of these DIY kits may come with specialized tools that can help you remove parts from your console. Not all of these come included though, so if you're thinking of getting into taking things apart, you'll want to ensure that you already have the tools necessary.
eXtremeRate Faceplate Kit
If you are looking to drastically change the look of your Switch, this faceplate kit by eXtremeRate is a great option for those who enjoy DIY projects. The kit comes with casings for everything, including the Joy-Cons. There are even replacement buttons and triggers for those who are looking to customize the Joy-Cons. As of writing, there are about 61 different colors to choose from. There are even options for the Nintendo Switch Lite.
Teyomi Protective Silicone Case
If you are looking for an easy way to change up the look of your Switch, you can opt for a silicone case. These cases fit all around your Switch, and even feature an ergonomic grip around the Joy-Cons, making it a little better to play for long sessions in handheld mode. Just like a smartphone case, they provide full body protection from drops and tumbles, so if you have kids, this may be right up your alley.
Switch Dock Faceplate Kit
Finally, if you want your Switch's docking station to match your console, you can get a custom faceplate for it as well. This is another little DIY kit that you can get to make your console look good while playing in TV mode. Keep in mind that this product is just a faceplate, so you should already have a Dock available to use.
Read More: The Best Nintendo Switch Skins, Faceplates, & Protectors
---
Hand Grips
Due to the portable nature of the Switch, the Joy-Con controllers are quite small. Their buttons are so small that they might be good for kids, but not so much for adults. In addition to this, playing the Switch in handheld mode for long periods of time can put a strain on your hands and fingers.
To help alleviate this, there are special grips that can be attached to your Joy-Cons to make playing games a little more ergonomic. There are even special grips designed to hook up to the Switch in place of Joy-Cons, making it a little more comfy to play while in portable mode. As with anything that attaches to the Switch directly, make sure that it is compatible with your Switch model.
HEYSTOP 3 in 1 Controller Grip Kit
Brand: HEYSTOP
Review Price: $10.99
Average Customer Rating: 4.6 stars, out of 2403 ratings
This accessory kit has two components; a pair of rubber grips to fit individual Joy-Cons, and a grip that resembles the official "Comfort Grip" that ships with the console. I found this grip to be far more comfier than the official brand. If you could care less about the Pro Controller, then the 3 in 1 Controller Handle Kit is an excellent way to get the "Pro" experience without breaking the bank.

Read More: The Best Nintendo Switch Hand Grips
---
Gaming Headsets
I've always enjoyed playing my Switch with a good pair of headphones. From where I live, I don't have the privilege of a home surround sound system or top quality TV speakers, so a headset is the next best thing.
Gaming headsets are different from your standard run of the mill earbuds and headphones. They are typically designed to fit over your ears and block out any outside noise. They are also padded to ensure that you can wear them in comfort for longer play sessions.
There are 2 kinds of headsets; wired, and wireless. Wired headsets can connect to the Switch directly, typically via the aux port on the top. Wireless gaming headsets usually connect with either a USB-C dongle or a Bluetooth adapter.
PDP Gaming LVL40 Wired Stereo Gaming Headset
Brand: PDP Gaming
Review Price: $39.96
Average Customer Rating: 4.3 stars, out of 13K+ ratings
An officially licensed headset by Nintendo, the LVL40 is a wired headset with a comfortabl, lightweight build that makes it great for long gaming sessions. This headset features immersive sound by way of 40mm drivers, and a flexible, noise-cancelling microphone for those times when online communication is necessary.

Read More: The Best Nintendo Switch Gaming Headsets
---
Bluetooth Adapters
One of the issues I've had with the Switch is its mediocre support for Bluetooth connectivity. Many electronic devices these days have some means of allowing for Bluetooth devices to connect, but the Nintendo Switch falls a bit short. Sure, they did release a system update to fix this, but I find that it still doesn't quite work on a consistent basis. That's my experience, at least.
This is where you can opt to get a dedicated Bluetooth adapter. These little dongles plug directly into the Switch's port, and essentially make it easier to wirelessly connect a pair of headphones. The best thing about this device is that it opens up your options for picking out headsets to use, and frees up tangles that would otherwise be experienced with a wired headset.
HomeSpot Bluetooth Audio Adapter
The Homespot Bluetooth Adapter is my top pick for the Nintendo Switch. This little device hooks up to your Switch's USB-C port, and as mentioned earlier, is a dedicated device for talking to your Bluetooth headphones. One handy perk to this one is that it is "dual-channel", meaning you can wirelessly connect two pairs of headphones at the same time; this is great for those multiplayer moments.

Read More: The Best Nintendo Switch Bluetooth Adapters
---
Stylus
The Switch features a touchscreen, not unlike that of tablets and smartphones. While there's not a lot of games out there that make full use of the touchscreen capabilities, you may find the occasional one that recommends using the touchscreen as opposed to the controllers.
If you happen to find one, and play it often, you may want to consider using a stylus as opposed to your fingers on the Switch's touchscreen. The skin on our bodies naturally secretes oils, including our fingertips, which can end up leaving smudges if you don't wash your hands often.
A stylus provides us with a lot more precision when using a touchscreen, and depending on who you ask, can make for an advantage on games that strictly call for the touchscreen's use.
Adonit Mark Aluminum Stylus
If you are looking for a good stylus, the Mark by Adonit is a good choice, especially if you have other touchscreen devices. This particular one looks and feels just like a pen, with a durable mesh tip that will last for a long time. It does not even need batteries, which is great.

Read More: The Best Nintendo Switch Stylus
---
Capture Cards
If you have plans on streaming your gameplay footage from your Switch, a capture card is highly recommended. In the past, recording video game footage from a console was a bit of a chore. With no shortage of cable hookups, your console had to be hooked up to your desktop PC and a monitor in a way that allows you to use both. The PC would also need to have a good enough graphics card to capture the game footage and, using video recording software, encode it and output it into a video file.
Capture cards help take a load of the work off your PC. It takes the raw data from the console, does the encoding for you, and with the power of HDMI, outputs the data to your computer, where it can record the incoming footage without too much strain on the PC's video recording software.
Elgato HD60 S External Capture Card
If you are looking for a capture card that works well for consoles, the Elgato HD60 S is a good starting point. This one can stream and record footage in HD (1080p). With a small form factor, this little device plugs into your console, and the output can go to your recording equipment.

Read More: The Best Nintendo Switch Capture Cards
---
Mounts, Brackets & Stands
The Switch already comes with a docking station that allows you to easily connect your console to a TV or a monitor. But everyone's setup can be different. Some people might have a wall-mounted TV, where a TV stand may not be immediately present. Others may play their Switch in tabletop mode, using the Switch's integrated kickstand! However you play, there are some things that can make playing a little easier.
TotalMount Wall Mount for Nintendo Switch
If you have a wall mounted TV, and are looking for a way to get your Switch connected, this may come in handy. This wall mount for your Switch is designed to house your entire Switch Dock, with room for cables on either side. It features drill-free installation and has a built in level that ensures that your mount is nicely lined up on your wall.
EVORETRO Clip Holder
This is a bit of an unusual accessory. This clip hooks your Nintendo Switch to a Pro Controller, allowing you to use the controller while in handheld mode. To be honest, I can't think of a situation that requires both to be present. If you have a Pro Controller, you are likely the kind of gamer who likes to play on a couch, in TV mode. If you play on the go, you're likely packing light, meaning a travel case, or a Switch with an ergonomic grip case.
Read More: The Best Nintendo Switch Mounts, Brackets & Stands
---
Repair Tools & Replacement Parts
Sadly, there may come a point in your Switch's life where there could be some wear and tear. Sometimes, it's an easy fix at best, other times, it may need more work. The worst case is irreversible damage done to your Switch, which may require sending it out for repair, or buying a replacement console. Hopefully things don't come to that.
Most consumer electronics sold these days have some form of limited time warranty, which may help cover the cost of repairing any internal damage or hardware defects.
If you are responsible with your belongings, and take good care of your electronics, you might not ever need to perform any kind of repair. Just a head's up that I am not a professional technician, so if you have questions on the specifics of your console's inner workings, you may want to seek out Nintendo's official support for help.
Joy-Con Joystick Replacement
If you are the kind of gamer who likes DIY, and would rather fix your own things than buy new ones, you might like this kit. This kit is essentially made to address worn out sticks and Joy-Con drifting issues. It comes with everything you need to take apart and replace the joysticks.
oGoDeal Triwing & Gamebit Screwdriver Set
This is a small set of precision tools designed to fit some of the particular bolts and screws used with various consoles, controllers, and cartridges. The screwdriver heads are magnetic, which is great for keeping things in place while you work. Everything comes in a handy little case to keep things organized.

Read More: The Best Nintendo Switch Repair Tools & Replacement Parts
---
Thumb Grips
These are special little pieces of rubber or silicone that you can fit over the top of your controller's control sticks. These can help protect the most sensitive part of your Joy-Cons, saving you from having to buy more down the road. These can also provide a little more grip while playing games, and there are a few different sizes available.
These are perhaps the most minimal thing you can get for your Switch. While they do only one job, they do it right, and if keeping your things in good working condition is important, you may want to consider getting some thumb grips. They can also be quite stylish, especially if you are looking for a cheap way of giving your console some character.
HORI Analog Caps – Zelda Edition
If you are a fan of Zelda, then these will be just right down your alley. Officially licensed by Nintendo, these thumb caps are a simple way to spice up the looks of your Switch controllers, and at the same time, keep the joysticks safe from wear and tear.
Read More: The Best Nintendo Switch Thumb Grips
---
Things to Consider when Looking at Accessories
Before buying any accessories for your Switch, it is a very good idea to look at the following points.
Price
Perhaps the most important thing to consider is the cost to buy anything online. If you are looking for a single accessory that does the job, there's no need to look at bundles or products that come with bells and whistles. Thankfully, with the help of Amazon, you can easily compare prices from different sellers before settling on the best one.
Brand
Another thing to consider when buying accessories is the Brand Name of the seller. Apart from the official Nintendo products, Orzly and Hori are some of the more common brand names that make accessories for the Switch, but there are many more out there; even AmazonBasics makes accessories for the Switch!
Function: Does it do the Job?
Every accessory that has been made for the Switch is supposed to fulfil some kind of task. Always ask yourself; does it do the job? If so, is it necessary to enjoy my Switch? Some accessories are pretty straightforward, such as travel cases, but there are others that don't do much else beyond provide an alternate look for your Switch, such as skins.
Customer Feedback
Most of the time you shop on Amazon, you can almost always expect shoppers to leave some feedback on a given product. The reviews are always displayed on the product page, and looking at these reviews is a good way of finding out if the particular accessory you are looking to buy is good or bad.
---
Anyways, this is just about all I have for today. I hope this post helps you out, and if you have any questions or thoughts to share, feel free to leave a comment down below. Until next time, happy gaming!
~ Ken