Brook Pocket Energy, a Pokemon Go Plus Battery Replacement
Product: Brook Pocket Energy
Review Price: $37
Where to Buy: Amazon (.ca)
Manufacturer: Brook Design
My Rating: 6 out of 10 – Recommended, but with caution
---
An easier way to charge your Pokemon Go Plus
Brook Pocket Energy is a Pokemon Go Plus battery replacement, in a nutshell. It does not add anything extra to the game, but it saves from the inconvenience of having to constantly replace batteries.
I have to admit, I have gotten very spoiled when it comes to rechargeable batteries. It feels like it goes hand in hand with our smartphones. I can't help but think that all of our electronics these days just charge their battery instead of requiring a replacement battery to swap out.
Remember when you had to replace the batteries in your GameBoy? I sure do. It was not a tough job, but it was always annoying when you had to stop playing.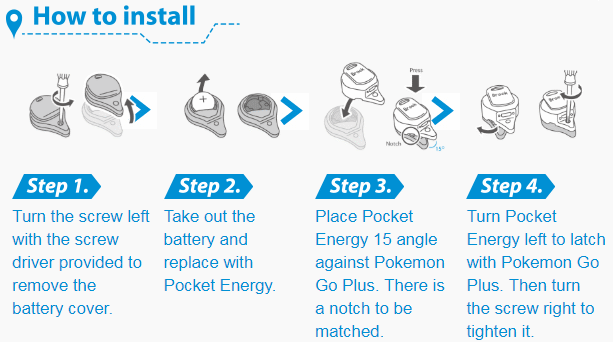 Setting it up is a slight change from simply replacing the battery. You have to line it up and screw it to the side, before connecting the Plus with the battery pack.
The battery itself will last for about 90 hours, give or take, depending on how often it is used. The battery capacity is about the same as the replacement batteries.
Pros
The best thing I have to say about this is the ease at which you can charge it. You plug it into a micro USB cord just like many smartphones, and you wait for it to charge. Pretty good if you charge your wireless devices on a regular basis.
It also comes with a screwdriver that allows you to easily replace your cover. It does not come with a cable, but considering that we all use phones these days, it is really unlikely that you won't have any of these.
Finally, it's good for the environment. You won't have to dispose of batteries anymore, which is one less thing to worry about.
Cons
For starters, the build quality is not the best. There is a clip on the back which is very brittle. You will want to be very careful when using it, because it will most likely break.
Another concern is the lack of a wristband. This battery pack essentially replaces the default wristband cover for the PoGo Plus, so you will either have to keep it in your pocket, or wear it around your neck.
The last thing to take note of is the fact that this device will bulk up your PoGo Plus. It makes the whole thing about double the thickness, so wearing it may look a bit gaudy, but honestly, it is not that bad if you are holding it or putting it in a pocket.
Price
Compared to the cost of the Pokemon Go Plus, the Pocket Energy runs at about $36.99 last time I checked. That puts it a few dollars more than the device it needs in order to function. In total, you would be looking at investing more than 70 bucks into Pokemon Go.
Is it Worth the Money? (Sort of, but buyer beware!)
Overall, I would give this device a try only if you feel the price of this product is worth the money. You will save on buying replacement batteries, but you have to be careful not to break it!
I really want to like this product and based on the currently 11-ish reviews on Amazon, there is not a whole lot of community feedback for me to fully recommend this for the time being. I know many others really like the Brook Pocket Energy, but there were a few folk who did not have as much luck.
Personally, I found the Go-Tcha is a good alternative to the Pokemon Go plus. It offers the same functionality and a few extra functions. Plus, it has an integrated battery pack, and compared to the combined total of both the Pocket Energy and the PoGo Plus, it costs less!
I hope you enjoyed this review, and if you have any questions about the Brook Pocket Energy, feel free to leave a comment down below!
---
Related Reviews
---