Hyperkin RetroN 1 HD Gaming Console Review
Today, we will discuss the Hyperkin RetroN 1 HD, and how it might be a worthy addition to your gaming collection.
---
Product: Hyperkin RetroN 1 HD Gaming Console Review
Review Price: $39.99
Where to Buy: Amazon
Manufacturer: Hyperkin
My Rating: 7 out of 10 – Recommended
---
The RetroN 1 HD Review
Almost a year ago, I wrote about a 3rd party manufacturer by the name of Hyperkin, who specialize in building hardware for the many generations of game consoles and accessories. Around May of last year, they released the RetroN 1 HD Gaming Console, which is essentially a console that can play your classic NES games. I think one year is more than enough time to give my two cents.
I have to be honest; I've been the kind of guy who would only buy the official products for my game consoles. Growing up, I always bought the legit controllers, and not the copycat clones like MadCatz and whatnot. Sure, the devices looked fancy, but there was always something that went wrong whilst using them. Looking back, I feel the main reason for this was my immature treatment of my toys and games as a kid. As an adult, you learn to care for your things much like you would your car or your tools.
Thinking about all of the 3rd party products out there, I don't think I've given them the right kind of respect over the years. They serve as an inexpensive alternative to the real deal, while still staying true to their source.
The main reason why the RetroN 1 HD stuck out at me was because of the way it compares to the NES Classic Edition. Nintendo's official console was built for modern TVs, and pre-loaded with classic games. The RetroN, on the other hand, had no pre-loaded games, but would play the old cartridges just like the old 1985 NES.
A modern day NES, if you will. If 8-bit video game consoles were never invented until today, I imagine that the RetroN does a great job at looking the part.
This console is basically a newer version of the NES that can play on any HDMI connected TVs. It even has the RCA sockets in the back in case you want to connect it to an older TV. It has an interesting means of power supply; it makes use of a Micro USB cable, which you can use to connect it to your TV or any cellphone charger.
The RetroN 1 is available in your choice of grey or black, if color means anything to you.
Pros
The biggest thing that sets this product apart from the NES Classic is the longer controller cable. It is 10 feet long, which is far better than the 3ft long cable supplied by Nintendo. The controller itself has two rounded bumps on the underside, which make the controller more comfortable to hold compared to the old 80's controller. The buttons and D-pad are both nice and responsive. You can still use your old controllers if you still have them, but I felt that Hyperkin's version just felt comfy to use.
As a bonus, it even uses the original NES Zapper! The only thing to consider is that compatible games only work if you use an old CRT TV, and not an HDTV.
It is also much cheaper than the NES Classic Edition. Even at launch, the NES Classic was about 60 bucks, and it had a limited selection of games. Nowadays, the collector's console is sold at crazy prices marked up by resellers.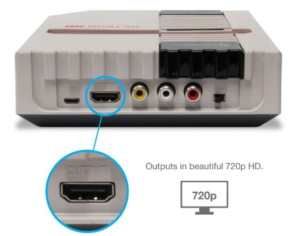 Another great thing about it is the way in which it plays High Definition video. You simply connect it to an HDMI port, and it plays the game in crisp 720p while upscaling the picture quality.
Cons
One thing I found that was a drawback was the difficulty in pulling the cartridges out of the console. It is a very tight fit, and I had to pull the darn thing out with two hands! This may not be a bad thing if you only have one game to play, but still, some may not like the tight fit.
Another issue I have noticed is that there are a few graphical and audio glitches. There were some times where I noticed that the colors may seem off in some games, and other games in which the sound almost felt muffled. This shouldn't detract from gameplay, unless you are really critical about how games look and sound.
Should you buy this?
Overall, I really like this product and based on the reviews on Amazon, I know many others really like the RetroN 1 HD as well. All in all, the key selling feature is the fact that you can play old NES games via HDMI and High Definition. It also has a much better controller than the official Nintendo product. Honestly, if you are looking for a console that plays NES games, then the RetroN 1 HD is right down your alley!
Product Specifications
Weight: 1.85 lbs
Dimensions: 13″ x 2″ x 8″ (L x W x H)
Box Contents:
Console
1 controller (10 ft. long cable)
3 ft. HDMI cable
6 ft. Micro USB charge cable
USB AC Adapter
RCA cable
---
I hope you enjoyed this review, and if you have any questions about the RetroN 1 HD, feel free to leave a comment down below!