Megacom Duel Catchmon Review
The Dual Catchmon is yet another accessory made for Pokemon Go, designed to work just like the official Pokemon Go Plus and the PokeBall Plus. By using a Bluetooth connection to your smartphone, it automatically catches Pokemon and items from PokeStops. It also allows for two accounts to use the device simultaneously. Read on for my Megacom Dual Catchmon review.
---
At a Glance
Product: Dual Catchmon
Manufacturer: Megacom
Where to Buy: Amazon
My Rating: 8 out of 10 – Recommended
Pros
Works just like the official product, but saves you from having to press buttons
Dual support for two accounts means two players can enjoy the benefits
It looks a lot more subtle than the other autocatchers out there
Cons
It's even more expensive than the Catchmon Go
Battery life is still lower than the Pocket Egg
---
Introduction
I wrote a review on the Catchmon Go a while back. Recently, I've been doing a lot of research into these autocatchers, special Bluetooth devices that function like the Pokemon Go Plus. It seems that there are quite a number of them out there, so it only makes sense to try to find out which ones are the best.
As I mentioned in an older post, I live in a cold country, so going outside to play Pokémon Go can be a bit of a challenge when it comes to staying warm. That's when I started seeing the appeal of these autocatchers.
Now don't get me wrong, I still like using the official Plus to play. But the fact remains, you still have to press a button to play Pokémon Go. That's perfectly fine while playing in the summertime, but in winter, it's hard to roll up a parka sleeve!
This is where the Dual Catchmon comes in. By connecting to your smartphone via Bluetooth, it works exactly like the Pokemon Go Plus, except that it automatically tries to catch any nearby Pokemon, without you lifting a finger, just as long as you have PokeBalls in reserve. It also spins nearby PokeStops to add to your supply, and also allows you to hatch your eggs.
Perhaps the one thing that makes the Dual Catchmon stand out from the other autocatchers is the fact that it can be used for two accounts at the same time. My girlfriend and I like to play Pokemon Go together, so having a device that we can both use is awesome.
Further Reading: The Best Accessories for Pokémon Go
---
Benefits of the product
Just like the Pokémon Go Plus before it, the Dual Catchmon solves the problem of playing Pokemon Go without having to stare at your phone screen. This device makes playing the game a whole lot safer, as your hands are free and you can keep an eye on your surroundings.
This is also awesome because it solves the problem of playing in cold weather, at least in my case. Your mileage may vary if you live in a warmer climate, but for those who don't, the Dual Catchmon will definitely step up your game and keep you ahead of your fellow trainers.
Except for your partner, that is.What makes this product different from all others out there is the simple fact that it can connect to two separate accounts at the same time.
---
How to use the Product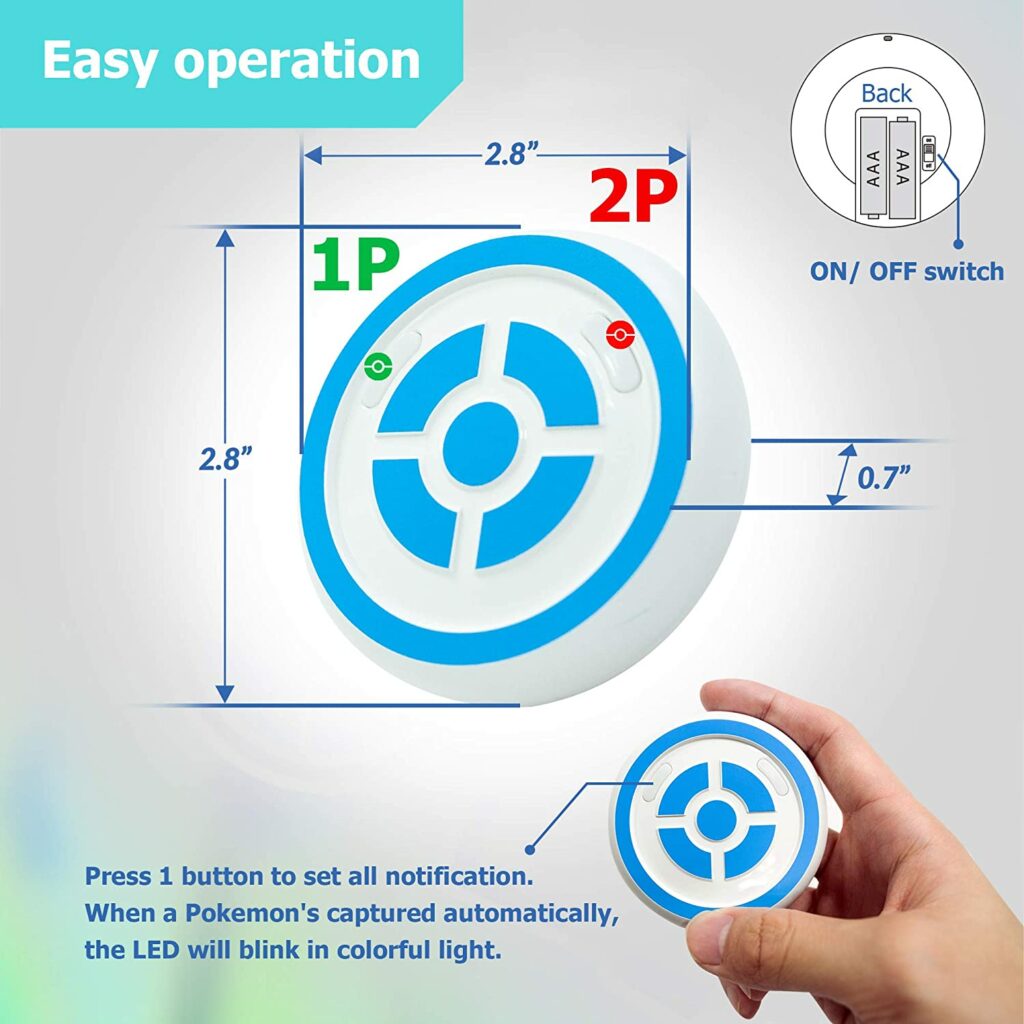 This device is a lot simpler than the Pokémon Go Go-tcha, another product I reviewed before. You don't have to configure any specific settings; just turn it on, pair it to your game, and you're good to go!
This device has two buttons on it that allow you to configure settings for separate accounts.
---
Product Description and Features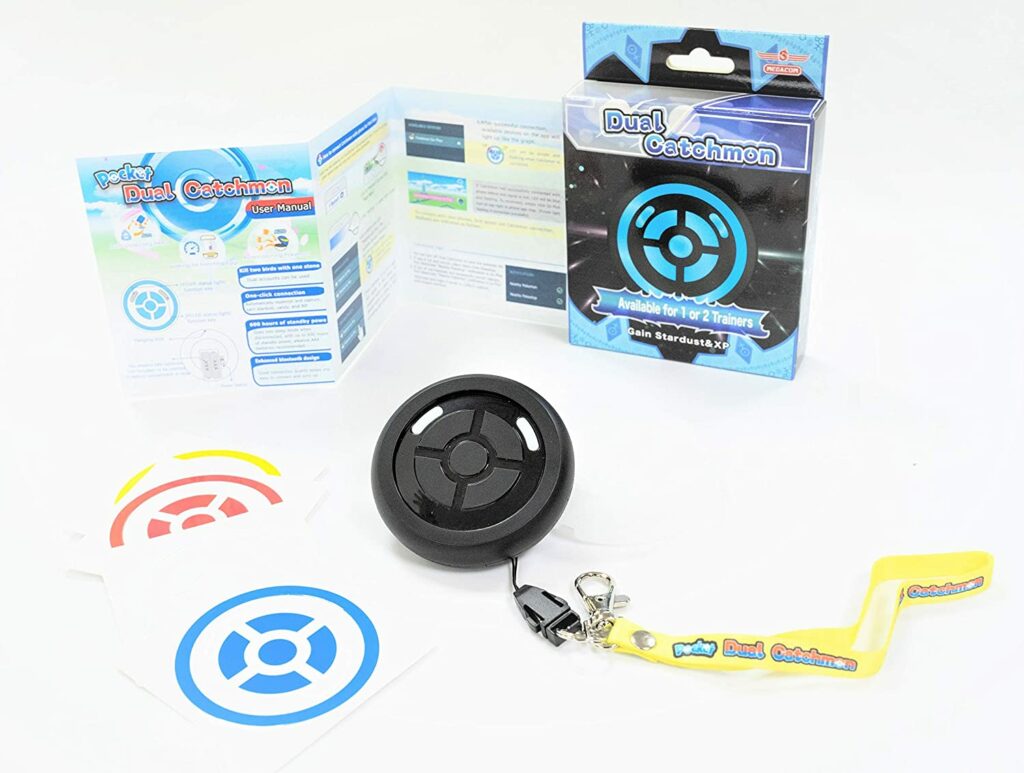 Out of the box, everything is very minimal. Apart from the actual device itself, you have a keychain/wristrap, and a silicone covering. It doesn't come with any AAA batteries, but considering how easy they are to find in stores, you shouldn't have any trouble getting some.
In a nutshell, the Dual Catchmon has these features:
Automatically collect Pokémon and items
600 hours of standby battery life
Easy to use and dual-account support
If you are familiar with the Pocket Egg, the Gotcha, or other autocatchers, it does pretty much the exact same thing. It is an automated Pokémon Go Plus. With the power of Bluetooth, it talks to your phone and plays the game for you. The Dual Catchmon automatically collects items from PokéStops as soon as you are near one. Obviously, it tries to catch any nearby Pokémon. This device, just like the official one, only uses Poké Balls, and so your Great and Ultra Balls remain untouched.
It boasts a long battery life; 600 hours, according to the product description. It achieves this with the power of 2 AAA batteries. Now some may not like the fact that they still have to work with batteries as opposed to using a charging cable, but I've still found AAA's to be a very reliable source of power, although they don't last as long as AA batteries. This is unfortunate because I prefer longer battery lives. Nevertheless, you can almost always find them in stores!
I should mention that if you do the math, 600 hours of "always-on" use would equal about 25 days of charge. Less than a month. While it is a little bit better than a few days, you may want to have some batteries on reserve, just in case. Or perhaps consider getting rechargeable batteries.
Keep in mind that the device will still disconnect after about an hour of inactivity. This is not an issue with the Dual Catchmon, but the design of Pokemon Go itself. That being said, if you still take the phone out occasionally, perhaps to do a raid or a gym battle, then you'll likely not see this occur often.
---
Who is the Product for?
Let's just state the obvious; this product is ideal for couples or close friends who play Pokemon Go together.
If you are the kind of player who likes to play Pokémon while on the go, then this device will definitely be a quality of life improvement. I should mention that the Dual Catchmon was meant to be used while not playing the game, and so if you are the kind of player who always goes to battle in raids and gym battles, this may not be the most helpful product. In the end, it really comes down to your personal preference.
---
What I like about the Product
The Dual Catchmon is easier to use than the Plus or the Go-tcha. It takes the best of both worlds, and still does what it says on the box. You don't have to worry about pressing a button to catch Pokémon, and you also don't have to worry about a touchscreen.
It has a long battery life (although shorter than some other alternatives). I haven't been so happy about battery life since I bought a massive portable battery pack. Bluetooth doesn't use up a lot of power, and so this makes the Dual Catchmon last a very long time. Keep in mind that this may depend on the quality of the batteries you get.
Perhaps another thing I like is that it looks a lot better than many other autocatchers out there. Some look like eggs, others do not, but still give off the impression of wearing a goofy piece of technology.
---
What I don't like about the Product
Now, as much as I really like what the Dual Catchmon has to offer, there are some things to consider if you feel like buying this.
For starters, it is expensive. It costs way more than almost every other autocatcher on the market. This can definitely be a turn off for some. To the credit of the manufacturer, this device is essentially two autocatchers in one, so the price should not be a surprise.
---
Final Thoughts
Hands down, I found this to be a good unofficial accessory for Pokémon Go, and overall found it a lot better than the Go-tcha. While its higher price may turn off some players, the price you pay for is convenience, which for the most part has been the main reason anyone buys these auto-catcher devices in the first place.
With that being said, if you have a friend or a significant other who enjoys playing Pokémon Go, then you may find the Dual Catchmon to be a worthy addition to your gaming sessions.
I hope you have enjoyed my review. Have you already tried it? Feel free to tell me all about it in the comment section below!
Further Reading: The Best Accessories for Pokémon Go
---
Related Products