All The Lego Games For Nintendo Switch
If you are looking for all the Lego games for Nintendo Switch, we've got you covered! In this post, you will find out where to find them, and some of our top favorites.
Let's be real; LEGO is a brand that anyone alive today should know. It has been around since the late 1940's, and chances are you, a family member or a friend has likely built something fun with it back in the day.
Up until 1999, the folks at the Lego Group had mostly sold their own themed sets of Lego bricks, shying away from making sets adapted from movies and whatnot. It wasn't until Lego Star Wars that the company saw a huge amount of success, and soon enough, Lego had expanded into many more products, from theme parks, to movies to video games.
Now that Lego Mario is a thing, it feels as though things have come full circle; video games are now being adapted for Lego.
The best thing about playing Lego video games is that you get all the fun of Lego, and none of the risk of stepping on a Lego brick! And so, without further ado, here's a list (in no particular order) of some Lego games that you might like to try out the next time you fire up the Switch. I'll be adding to the list over time, so feel free to check back later for new entries!
Table of Contents
---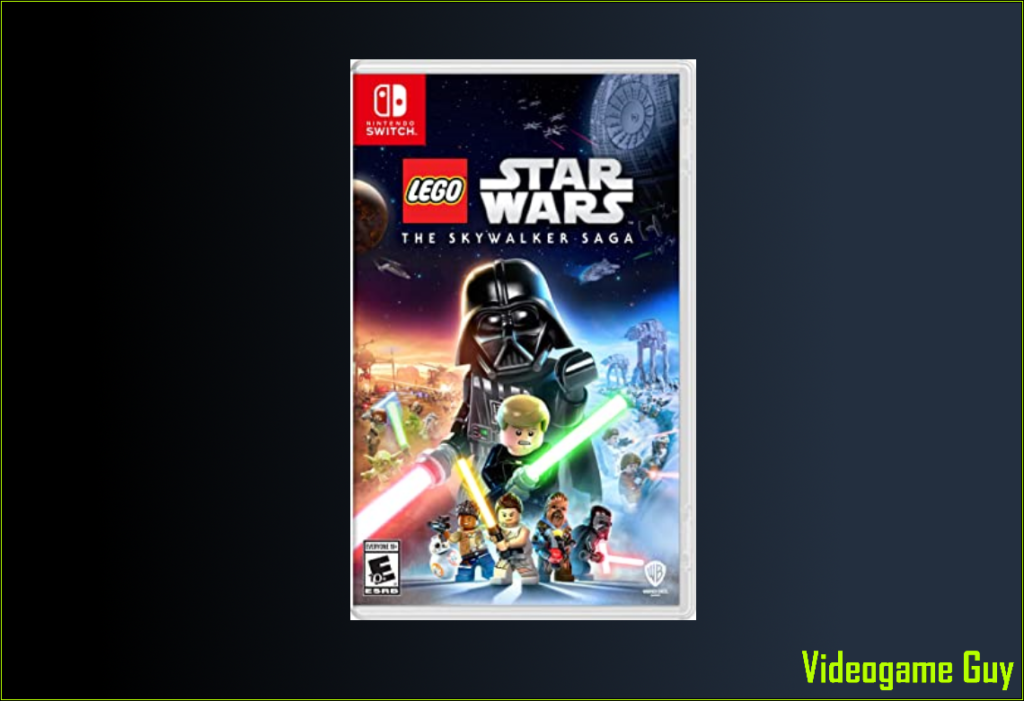 The most recent game to come from TT Games, this game is a love letter to all Lego Star Wars fans out there. Unlike previous Lego Star Wars games, this one is a complete retelling of the Star Wars story, as told in the classic Lego brand of humor.
Unlike a lot of other Lego games that adapted film franchises, The Skywalker Saga allows you to play through any of the 9 films in any particular order. You could start your journey with The Phantom Menace for some pod racing on Tatooine. Or you could choose to launch right into Rey's adventures in The Rise of Skywalker.
With hundreds of characters and vehicles, players can dive into their favorite Star Wars moments in an all-new way, complete with the hilarious Lego brand of fun that's sure to delight players of all ages.
As of writing, the game is on sale at 23% off. A few weeks ago, I wrote about this, so there's no telling how long that discount will last.
---
I've been a huge fan of Harry Potter, so naturally, when they started releasing Lego themed sets featuring the Boy Who Lived, I was quick to collect them all. But when a Lego video game was adapted from the series, I was just as ecstatic to dive in and play.
There were two games originally made on older consoles to adapt the Harry Potter books and films: Years 1-4, and Years 5-7. The Switch version takes both games and rolls them up into one, allowing you to experience the entire series remastered for the Switch.
Much like Lego Star Wars, this game is a love letter to true fans of Harry Potter. That being said, if you haven't had a chance to read the books or watch the films, you probably might have a hard time following the story from start to end. That being said, Lego Harry Potter is a great family friendly way to introduce kids to the wizarding world of Harry Potter.
---
In this open world Lego game, you play as Chase McCain, a police officer who has been tasked with going undercover in order to take down Rex Fury, a notorious criminal who just broke out of the big house and is ready to wreak havoc in Lego City.
It's the kind of story you'd expect in a Die Hard movie, except rolled up into a game and given the family-friendly Lego treatment.
This game used to be a Wii U exclusive, but has since been ported to other consoles. The game plays just like Grand Theft Auto, you drive and customize a wide variety of vehicles, and use disguises to fight crime and complete missions; honestly, it is probably the best way to get your kids enjoying open world games without getting into mature rated games.
---
Speaking of heroes, let's take a moment to give a shout out to the villains. In many Lego games, you play as the good guy, fighting crime, taking out the bad guys, saving the world, etc.
But what if YOU could be the bad guy? In Lego DC Super-Villains, you can do just that! In this game featuring the DC Universe, you get to create your own villain, give them super powers, and team up with the Joker and many other iconic DC characters to unleash chaos in an open-world.
---
This is the videogame of the sequel of the film of the Lego toy brand… That's a mouthful! Anyways, this game follows the trend set by previous Lego video games. You control various characters and use Lego bricks to build things to get through the levels.
Unlike other Lego-themed games that feature a semi-realistic world with Lego bricks, the setting of The LEGO Movie is entirely made of Lego, which makes the story make a lot more sense. Much like the movie, you get to relive the key moments, but this time around, you get to be a part of the action!
---
Originally released in 2015, this game was ported over to the Switch. If you are a big fan of the Jurassic Park series, or if you have a kid who loves dinosaurs (and Lego!), then this game is a great way to get into another iconic movie franchise.
All in all, this game is essentially a Lego-themed adaptation of the first 3 Jurassic Park films, as well as Jurassic World. With hundreds of playable characters and dinos, you get to play through classic moments either saving humanity, or wreaking havoc against them. You can even create your own Lego dinosaur if you so choose.
---
When it comes to Marvel superheroes, the MCU and the Avengers films always come to mind. But unlike those, this game is an original story featuring more heroes from the comic books.
As usual in Lego games, you have dozens if not hundreds of characters to choose from, finally allowing you to pair up Wolverine and Iron Man together to take down Marvel's classic villains.
---
---
---
---
---
---
---
Anyways, that's about all I have for now.
Overall, when it comes to gaming and Lego, how you feel about each game probably depends on your opinion of the franchise it adapts. If you aren't a Marvel fan or a Star Wars fan, some games may not be for you. But if there is one thing that is certain, it is that each Lego game has its own unique take on the brand, and provides loads of family-friendly adventures to be had!
I hope you enjoyed this post.
Have fun, as always.
~Ken